Structure and magnetic properties of Co3O4/SiO2 nanocomposite synthesized using combustion assisted sol-gel method
Authors
Ivetić, Tamara B.
Tadić, Marin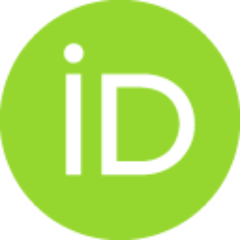 Jagodic, M.
Gyergyek, Sašo
Strbac, G. R.
Lukić-Petrović, Svetlana R.
Article
Abstract
This paper reports on novel cobalt oxide nanoparticles (NPs) embedded in an amorphous silica (SiO2) matrix, synthesized using a modified sol-gel method. SEM and TEM images show as-synthesized particles to aggregate in the shape of spheres and less than 5 nm in size, while XRD and SAED analysis both point to well crystallized cubic spinel cobalt oxide phase with an average crystallite size of about 4.6 nm. Raman analysis confirms the formation of cobalt (III) oxide (Co3O4) NPs. As-synthesized Co3O4 single-nanocrystallite has magnetic properties that correlate with finite size effects and uncompensated surface spins. Temperature dependence of ZFC-FC magnetization curves reveals a sharp peak around 10 K which corresponds to the blocking temperature. A Curie-Weiss behavior of magnetization above 25 K shows lower Neel temperature of the sample compared with its bulk counterpart T-N=40 K (possibly due to crystal defects and nano-dimensionality of the particles). The magnetic measurements exh
...
ibit high magnetization at low temperatures (M-s=54.3 emu/g) which can be associated with random canting of the particles surface spins and uncompensated spins in the core which tends to interact ferromagnetically at low temperatures. The initial magnetization curve falls out from the hysteresis loop at 5 K, which could be also the effect of surface spins. (C) 2016 Elsevier Ltd and Techna Group S.r.l. All rights reserved.
Keywords:
Sol-gel processes / Nanocomposites / Magnetic properties / Spinels
Source:
Ceramics International, 2016, 42, 16, 18312-18317
Projects:
APV Provincial Secretariat for Higher Education and Scientific Research, Republic of Serbia, Republic of Slovenia