Enhancement of negative capacitance effect in (CoFeZr)(x)(CaF2)((100-x)) nanocomposite films deposited by ion beam sputtering in argon and oxygen atmosphere
Аутори
Koltunowicz, T. N.
Zhukowski, P.
Bondariev, V.
Saad, A.
Fedotova, J. A.
Fedotov, A. K.
Milosavljević, Momir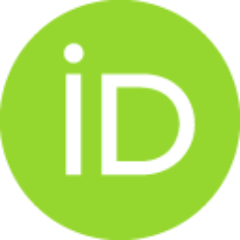 Kasiuk, J. V.
Чланак у часопису
Апстракт
The paper presents frequency f and temperature T-p dependences of phase shift angle Theta, admittance sigma and capacitance C-p for the as-deposited and annealed (CoFeZr)(x)(CaF2)((100-x)) nanocomposite films deposited by ion-beam sputtering of a compound target in a mixed argon-oxygen gas atmosphere in vacuum chamber. The studied films presented metallic FeCoZr cores covered with FeCo-based oxide shells embedded into oxygen-free dielectric matrix (fluorite). It was found for the metallic phase content within the range of 52.2 at.% LT = x LT = 84.3 at.% in low-f region that Theta values were negative, while in the high-f region we observed the Theta LT 0 degrees. It was obtained that the f-dependences of capacitance module displayed minimum at the corresponding frequency when the Theta(f) crossed its zero line Theta = 0 degrees. It was also observed that the sigma(T-p) dependence displayed the occurrence of two minima that were related to the values of Theta(1) = 90 degrees (the first
...
minimum) and of Theta(2)= -90 degrees (the second one). Some possible reasons of such behavior of (CoFeZr)(x)(CaF2)((100-x)) nanocomposite films are discussed. (C) 2013 Elsevier B.V. All rights reserved.
Кључне речи:
Electronic transport / Hopping conductance / Nanocomposites / Percolation
Извор:
Journal of Alloys and Compounds, 2014, 615, S361-S365
Пројекти:
Iuventus Plus program of Polish Ministry of Science and Higher Education [IP2012 026572], Visby Program of Swedish Institute, State Sub-Programme Crystalline and molecular systems of Belarus
Напомена:
International Symposium on Metastable, Amorphous and Nanostructured Materials (ISMANAM), Jun 30-Jul 05, 2013, Torino, Italy
ISSN: 0925-8388 (print); 1873-4669 (electronic)
[ Google Scholar ]
Колекције